Hello friends ,
Sorry for my absence in recent months, but launch a brand, it is much more time-consuming than expected …
I turned 40 on May 10th, 2018. Fuck, that's old. Tradition has it that you offer yourself a Rolex at that point, if you've managed to do something with your life. You might even get a Patek if you've made lots of money, or else a Hublot if you've missed the whole point of watchmaking.
As watchmaking addicts, the question we should be asking ourselves is, how to go beyond the simple act of buying, and what should the further step be?
I've been blogging for about ten years. I started several forums and blogs, worked for the most superlative watchmaking brand, created and drafted the most disruptive media in watchmaking history, bought and sold a few nice pieces. By elimination, what other aspect of the business did I still need to explore?
The answer was to design a watch, rather than purchasing once again. The least I could do was offer the world a creation, the travel to the end of watchmaking. But I'm not a designer, that's rotten luck, isn't it? The big question of watchmaking is design, not complication, as demonstrated by the success of The Royal Oak, the Nautilus, the Luminor and so on.
When you are the most radical watchmaking blogger of this galaxy, you are regularly contacted by young creators wishing to test their concept. I'm not a bad guy, and I don't mean to turn people away from their vocation, let's just say most of them would be better off starting a dry cleaner's or a restaurant…
But three years ago, some Belgian guy called David Rutten came to me to ask my opinion about his watch. The man just blew the roof off! He presented me the most groundbreaking and accomplished project I had seen in ages, including major brands. The design was pure and radical. It was an impactful project, a meteorite blowing the Gulf of Mexico into stardust.
Rutten is simply the new Genta.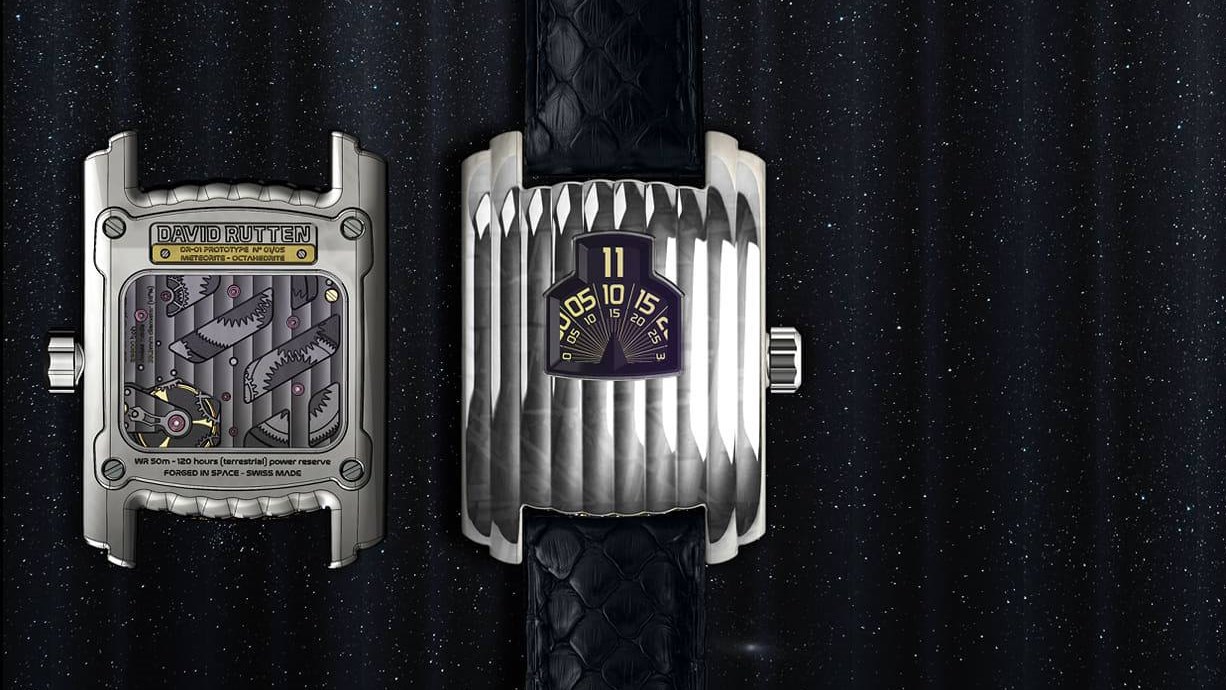 At this very moment, I felt like De Niro in Mafia Blues.
In this bloody life, you just can't miss out this kind of chance, because you might never get it again.
David didn't know it yet, but ten seconds later we were going to work together.
So why did I leap at this chance with the stubbornness of a crab on a late night hustle's pubes ?
It is a dark time. Watchmaking is spinning its wheels and the business is tracking fashion trends like cars or clothes. All it takes is a brand to come up with a weak idea and everyone else follows with no imagination, or even no understanding of the sociological phenomenon… The XXL watches fashion, the overweening watches (who said Invicta ? ), neo vintages who missed the whole point, then neo vintages who succeeded, blue dials, white dials for the Chinese, ect, all of them are good examples of that.
It takes more than a pleasant or well-priced product that reduces "middle men" – see this excellent article that I wish I'd written myself.
What you need is a heavy concept, a flawless pitch and a fucking radical design.
If you don't have this, Khey, run a restaurant, a titty bar, a pet shop, go sell pot on the streets, but don't you ever start making watches.
But then, the very second when David Rutten started to tell me about "Meteorite", he pronounced the key word, the one that drives you mad. A few weeks earlier I had seen the De Bethune's Dream Watch 5, an absolute beauty from another world, flame blued and crafted from a meteorite block. One of the most powerful pieces I've ever held in my hands (LINK Foudroyante album DB). 450.000 euros. Ouch… C'est beau, mais c'est loin… Thus, this extraordinary piece suffered from the endemic disease of independent watchmaking, that's to say disconnected from market realty.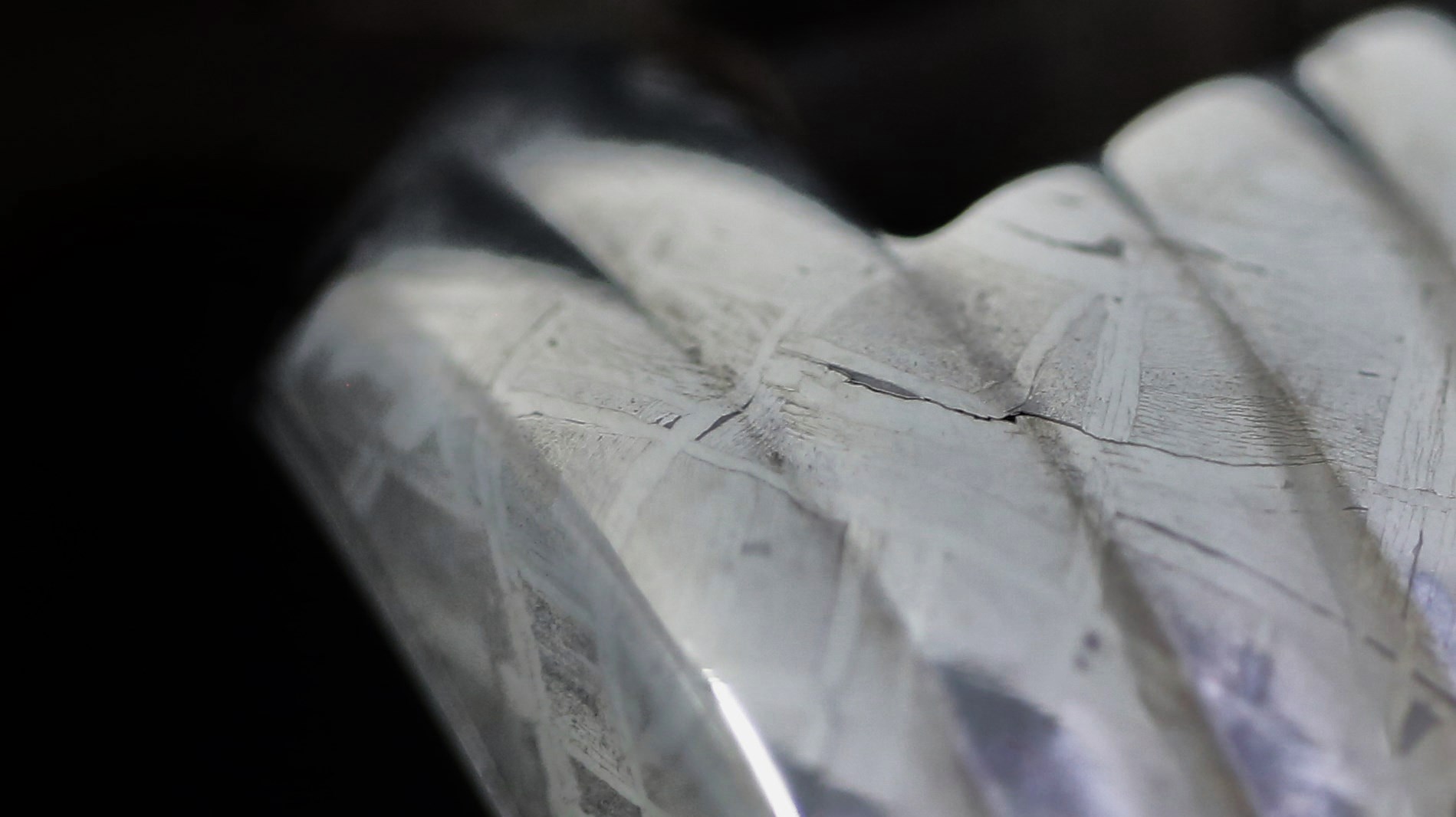 Instead our decision was not to produce billionaires watches, but rather to base the production of the project on the meteorite, in order to make this unique metal affordable.
As it randomly falls from space, and even if the latter looks a bit closer since fellas have been floating in zero-gravity, we haven't really managed to move beyond the baby step stage. The further we've gone so far is the Moon, 0,4 million kilometers from the Earth, when the asteroid belt, between Mars and Jupiter, lies 320 million kilometers away.
But a meteorite isn't just some large iron and nickel ingot fallen from outer space. We must look at the creation of the universe to understand the value of this metal.
13.8 billion years ago, in the middle of an abyssal darkness of an infinite density and a deafening silence: BANG.
The two primal atoms, hydrogen and helium, came into being, forming the stars. Then, in their wake, the nucleosynthesis generated the elements. Among them, the 28th, nickel. Over the course of cyclopean stellar detonations, some atoms spread out, agglomerated and ended up forming huge rocks, more commonly known as planets, gravitating around the stars. The cosmic game of musical chairs led the less fortunate atoms to form asteroids.
The cores of the asteroids are made of iron and nickel. Unlike planets, asteroids went extinct veeery slowly. There is indeed no air in space, and therefore no thermal conduction. The solidification process experienced an entropy of approximately 1C° every million year, which led to the fact that the most massive bodies took more than a billion years to solidify .
This considerable delay combined with zero gravity brought forth a phenomenon that's impossible to replicate in the current state of technology: the typical alloy of iron and nickel organised according to an eight-sided crystal structure. Once we've cut the ferrous meteorite, the four-sided pattern, or Widmanstätten pattern, will be recovered.
But before cutting the octahedrite and find out whether its pattern is exploitable, we need to get our hands on it. In the best-case scenario, there are 10 kg of exploitable meteorite metal falling on daily basis, or about 3 tons a year (check the details of the calculation on David Rutten's website), to be compared with the 3000 tons of gold mined every year. 
Some remarkable fragments are just gathering dust in the laboratories, since scientific research gets first crack at any meteorite. Of course, we certainly do not want to complain about researchers doing their job, we simply want to highlight the absolute exoticism of the meteoric iron. Private collectors, research, museums, all of them own most of it, and there's only a small amount of octahedrite available on the market every year, which imparts exclusivity. Even if we could, commercially speaking ("there is a will, there is a way"), we would still be forced to limit our production to just a few hundred pieces per year.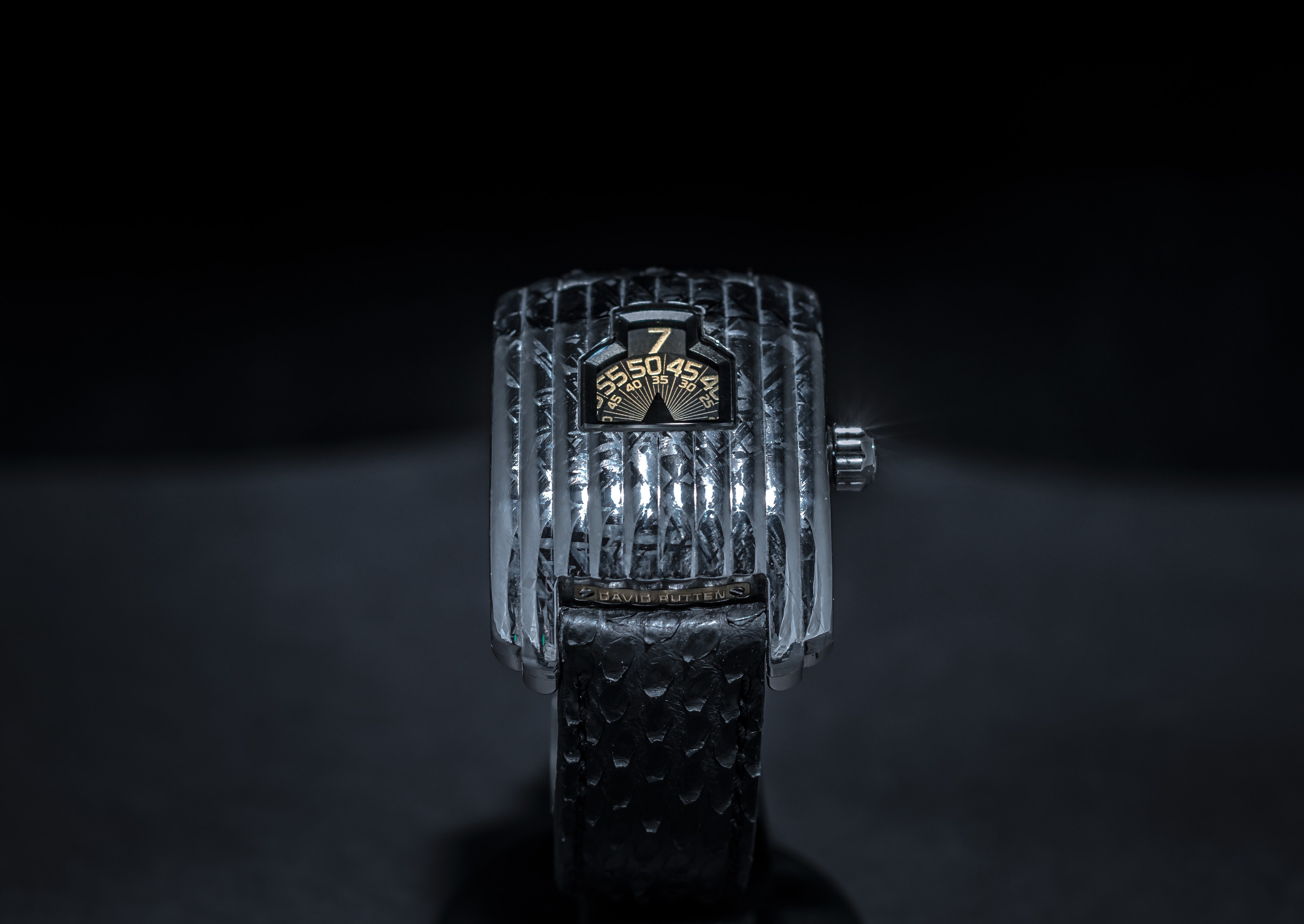 Since octahedrite has been central in this project, David radically chose an aperture watch to maximize the space for the raw material. An additional bonus of this design is an immersion into the 30's to the 60's, at a time when watch design was at its pinnacle. Today as in the past, watchmakers worthy of the name swear by art deco. Aperture watches with analog discs emerged in the 20's-30's. The Roaring twenties, following WW1, witnessed the massification of the first wristwatches, designed to coordinate charges into the trenches. Wristwatches also meant new problem of glass breakage, from which pocket watches were protected. This need to decrease the exposed surface of glass (higher quality of mineral glass and large cases to protect them had not yet been created) combined with art deco inspired a new style of sport watch. Reverso on the one hand, still popular today, and aperture watches on the other hand, including the famous Tank… Along with the cushion cases before the emergence of Panerai, this shape is among those who have been left out of contemporary design. However, it allows as no other to put forth the extraterrestrial metal… Staying away from watchmaking intelligentsia and looking beyond the squareness of the design, David was able to feel the mysterious power of aperture watches laying low under the casing when he set his eyes on them. This required the eye of the designer, trained at La Cambre® (THE best design school in Belgium, which means the best in the world – David told me about the teaching: a blend of the Dirty Dozen's training and Ikki's from Knights of the Zodiac). But David has also been guided by his teenager and student culture : the 70's japanim, Syd Mead, brutalism, Italian futurism, Schuitten, Horta. All those minor influences talking to each other under that cobalt blue hair…
But the three main ideas that were behind the creation of the Streamliner were: retro science fiction, especially the Space Opera from the 40-50's, all chrome-plated and curved, with their open invitation to the infinite. A period of time when space travels were about to begin. In this context, it would have been easy to farm meteorites straight to the source, the asteroid belt! Unfortunately government money ran out, and David had to settle for a telescope and a meteorite collection to satisfy his passion for space, grounded by the Earth looking at its feet… While wandering into the cosmos may not be realistic, he wanted to spread his appreciation of the extraterrian metal, providing watches exclusively made out of meteorite.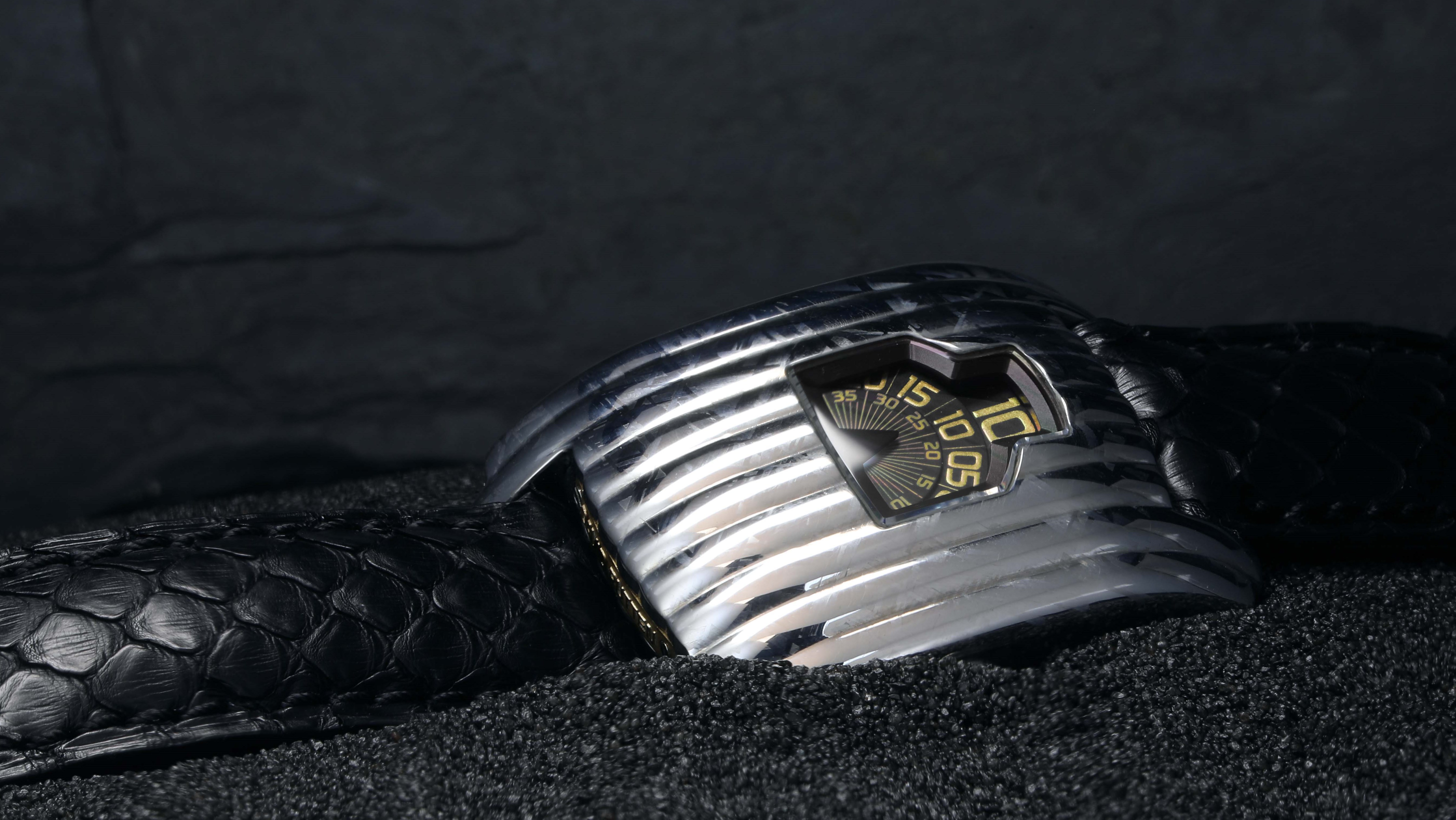 We've flown 640 million kilometers out of our way, but let's get down to aperture watches to understand the third influence. David's point was not to replicate foolishly (let's call it the watch industry way, or maybe the Netfix way…) design stunners from the 30's, but to build upon them and create something in the spirit of the age, just as the 47mm Panerai Bronzo was inspired by the 25mm Rolex 2533.
In order to enhance this retro design, David provided the DR01 with vertical gadroons in line with the streamline spirit, this art deco sub-genre, indissociable from the golden age of the American dream. We still have in mind the gorgeous trains and buses, the creation of which was partly made by the French man Raymond Loewy… Those streamlines were expected to improve aerodynamics, but it turned out to be kind of a pre-wind tunnel mythological belief, as we know today that it is far from being the case. Never mind, this design and its retro SF look remains the swansong of modernism, and the allegory of the American way of life. There are still a few museum pieces that continue to fascinate…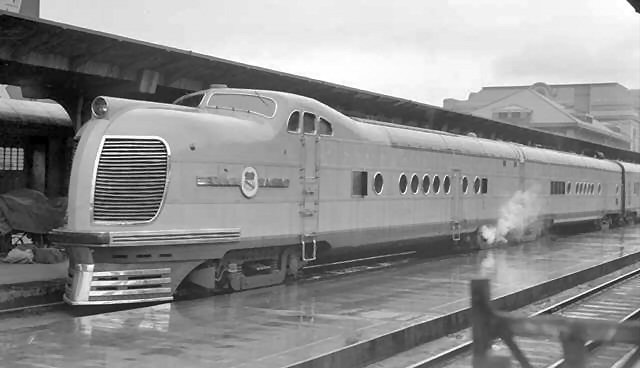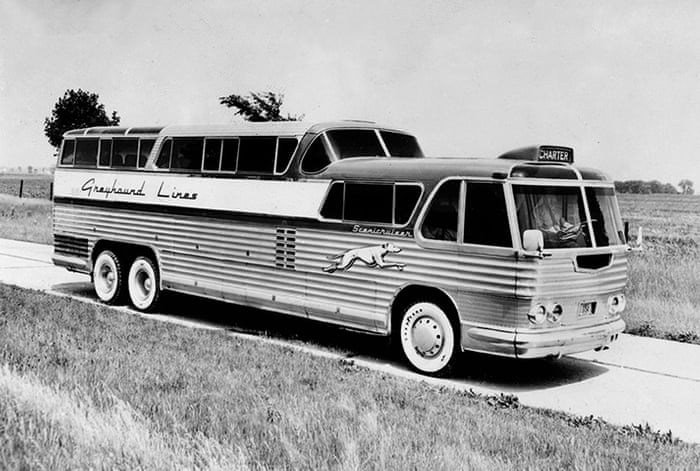 I know a little bit about design, and I am a sensitive connoisseur of watchmaking, so the moment David introduced this work to me, I knew I was dealing with a genius designer, and that I no choice but to get involved in the project. I don't want to be telling my grandchildren that I let the Union Pacific M-10004 go by. To conduct this project, David needed a watchmaking expertise, a guide in this brass-teeth shark tank.
Our first challenge was to find a movement. We're providing a genuine watch, that means that this piece is built around its movement, so we didn't place a 5mm casing ring to offset the small size of the caliber…
More specifically, the size of the discs of jumping-hour complication was the condition for the opening of the aperture, as well as the size of the case and ultimately the design details like the number of gadroons…
At this stage, we were not expecting to waste 18 months of our precious time on this step. We sought most market players (with the notable exception of Swatch Group), going from failure to frustration. Among other things, we were asked chf 150,000 on an account to work with a famous supplier… some unknown supplier wanted to sell us his 2892 clones chf 900 each… another nebulous engine designer demanded chf 650,000 to develop a jumping-hour complication in line. As surprising as it may seem, only Vincent Calabrese and our supplier truly master this technology. Most of jumping-hours on the market are in parallel, not in line, and therefore suitable for round cases. We had to turn a quite reasonable offer from Vincent Calabrese down because he wanted to work on a 2892 base. Indeed, the overall cost of raw material and the complex machining of the meteorite (both hard and inhomogeneous)approaches the cost of a machined gold case. Knowing this, there was no way we could board on this costly case an ETA Valjoux clone that we've seen over and over again and cased up in 200 bucks chinese watches.
Our calibre had to be good-looking, of a large diameter, easy to handle, featuring a plate with discs in line, as well as an affordable and a customised cut of the bridges… that's squaring the circle. Like all good designers, David lives in Bruxelles, the city of design. He kept going back and forth to Switzerland during these never-ending 18 months, to the point where he realized he'd be better off getting an EasyJet subscription. We knocked countless doors, I racked up the kilometers drifting through Jura mountains. Nothing, going just empty-handed. Always the same old highwayman conditions.
And then one desperate night, as I was loafing about my Facebook page I got an enigmatic message from David, claiming he might have found something about a far-fetched jumping-hour watch. He knew the approximate position of the supplier, but not his name. I found it a few clicks later, in German-speaking Switzerland. We quickly found out that, in addition, he owned the caliber we needed. But this complication doesn't fit with this caliber. Another disappointment? Well, not this time. Our movement partner would simply adapt for us his jumping-hour complication on his flagship caliber. Finally some fluidity! FTL, at last! Now we could travel right across the watchmaking galaxy !!
So, that caliber, what about it? A few years ago, I noted that mid-size calibers between the 7750 (30mm 13 ½ lines) and the Unitas (36.6mm, 16 ½ lines) were nowhere to be found on the market.
That was before the DR01 caliber with jumping-hours : round caliber, measuring 33.3mm, or 14 ¾ lines, about 8mm thick with its discs (which is a relatively small thickness, given that a 7750 is about 10 to 11 cm thick with its hands). The frequency is 28800 bph (4hz), with a 120-hours power reserve, which is a working week without having to wind it up.
David Rutten has opted for a sober "octahedron" decoration and a "Ruttenium" bridge treatment to stick with the meteorite theme. You'll notice that the Geneva waves are flush with the gadroons, in order to preserve a visual coherence between front and back. Of course, the decoration remains semi-industrial. Sorry guys, hand-chamfered and Philippe Dufour's Geneva waves would have increased the production costs and made it too costly for most watchmaking enthusiasts. Our objective is to provide an independant, novative and powerful watchmaking experience for the price of a nice standard watch.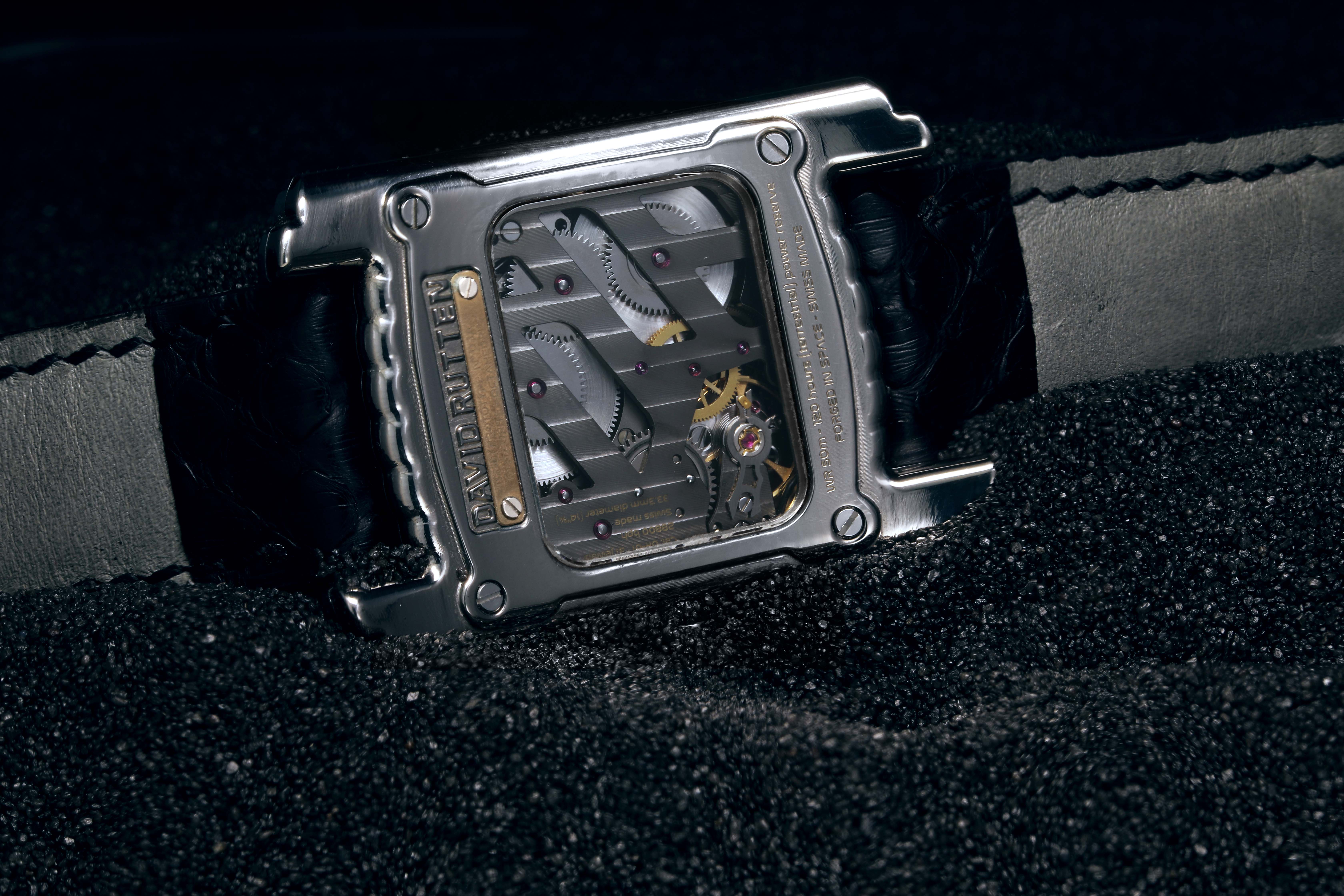 Amongst the great pleasures of running a project like this one, discovering the new calibers holds a top position. Our supplier was presenting me the calibers. I started to play with the crown until the hour jump : "Clack", nice and clean, flawless. A rebel torpedo fired right in the heart of the Death star. The conception of jumping-hour system is relatively new. The jump takes place without preliminary coupling of the hour-disc (or the latter backs up a little bit from the 57th minute on less fortunate other pieces). There's no perceptible shaking or oscillations. And above all, you can still hear it jumping even when cased up, which is an additional sound complication.
Once the dimensions of the caliber were known, we could finally begin the machining of the case. At first, David wanted the dimensions to be thinner and rectangular with a case of about 33-34mm, but that was problematic on two levels. First of all, easy-reading was made difficult for people in their fifties because the dimensions of the aperture were too narrow. Then, according to me, this size was too "art deco jewel" connoted, and not enough "space instrument"for space marines on punishment mission… In short, me and David got into a big argument about it. The 14 ½ lines movement of our partner was our justice of the peace. With a 33mm movement, leaving just 2mm on each side, the watch would measure 37mm, with a caliber cased up with a shoehorn, as in the blessed time of serious watchmaking industry…
Once the sized known, we had to face the great unknown: was it only possible to machine the meteorite with the necessary level of accuracy to create a series-produced watch case ???
The discussion I had had a few years before with Denis Flageollet about the De Bethune's Dream Watch 5 wasn't very comforting because it seemed almost unrealisable as a series.
As is often the case with David Rutten, he adopted a tireless optimism. Personally, I was going a bit paranoid.
Well, it was no easy business, but achievable, and the series-production was possible. Adjustments of the initial plans and delays beyond our control led us being 4 months late…
Those last weeks drove me mad like a rolex fan who would have to wait 8 years for the new Daytona… We were in the middle of MMORPG, struggling at lvl1, trying to collect bullshit items to get the magical object required to start the following quest series…
I'll skip the details, but we spent a big chunk of our time sending emails, making calls and going here and there to gather all the necessary components we needed to develop five prototypes.
That may not seem like much but in ten years of watch blogging, I've seen lots of projects wallow on the finish line. Machining sizing issues, incorrect settings or conception of complications, and whatnot. And given all the difficulties we went through with the case prototypist, I was expecting the worst.
Well, no, it IS. As I don't have children, all I can do is extrapolate what I am about to say. I assume that while awaiting the very first child , we have expectations. We wait for "A". But then quickly, this child will live his own life, from "A" to "C", "M", "Z".
That was the feeling I had with this piece, which, timidly standing on David's desk, was already an "E"… First slap in the face: it looked much larger than the model version and the synthetic image. Coming to life had given it extra energy. If you've ever attended a funeral, the deceased looks wizened compared to what he was like when he was alive. Here was the perfect contrary. It felt like we had animated the golem. It derives all its power of iron and nickel.
The second good news was that the proportions we had empirically defined were correct. The aperture was at the right place, sufficiently open to enable an easy-reading, but not too much so it kept the mystery and power of the watch. This last feature was the real surprise for me. I've known aperture watches for quite a long time, and I've thought they were pleasant though rather old-fashioned, but they certainly weren't powerful watches to me, quite the contrary. Now I realise that a good old steroid treatment and a proper facelift can be necessary to enhance a drawing. This piece genuinely rocks. It looks like some extraterrian beast, some biomechanical insect curled up in the space vacuum stoically waiting for its lunch. Everytime I wear this watch, my car seems rather unexciting. I'd rather board my spaceship to explore far-off star systems. Speaking of cars, wearing this watch gets me this rare feeling to own a powerful instrument, just like it felt at the stoplight with my Mercedes E500. The two exhaust pipes smoking like a steam engine, the V8 5.5 going 750 rpm, waiting to set the hyperdrive online.
The armoured aspect of first aperture watches is magnified. It's kind of a mysterious object. It would be difficult for a neophyte to figure out what this unidentified watchmaking objet is.
This should allow you to refine your flirtation technique. Simply explaining your target that this watch was made of a metal that was gravitating 320 million away from Earth until recently should be enough to take her home with you. If still in doubt, all you'll have to do to finish convincing her is to show her the fascinating and inimitable geometric pattern of the meteorite. Unique pattern, as every watch will feature its own Widmanstätten array. The latter will have a different structure depending on the streamliner series, or the rule, even the vintage. But some of them will also feature cobalt inclusions, which finish amazingly contrasts with the near-white colour of ferronickel. The cobalt is embedded within the matter in its liquid state but without merging with the rest. Inclusions take the form of anthracite oil drops in a glass of clear water. It's really impressive and impossible to achieve in zero-gravity!! My personal watch features this type of inclusion, because it makes the experience of a raw natural material as a watch case all the more intense. Like bronze watches, bear in mind that the material will acquire a patina, making some patterns more visible, depending on your perspiration and fidding of the watch, and continuing the object's life experience.
First paid, first served. Those who immediately support the project will have first crack at the choice of the current vintage case…
Comfort was central in the design process. First, reading comfort through the large aperture and the index colour which will be exchanged for a garish yellow -safety vest-style-, because the present golden colour proves to be too dark when the light fades. But also wearing comfort. The case-back and the crown are made of titanium, in order to prevent allergies.
The case is curved and features low horns to fit any wrist. That will make you forget about it, despite its 120 grams, wristlet included…. Speaking of which, there will be two wristlets in the presentation-case : a satin black python one, and a nubucked-calf sports bracelet.
Always with the aim of ensuring a total experience, the presentation-case will be provided with a mini-astronomical observatory, with the watch taking center stage instead of the telescope.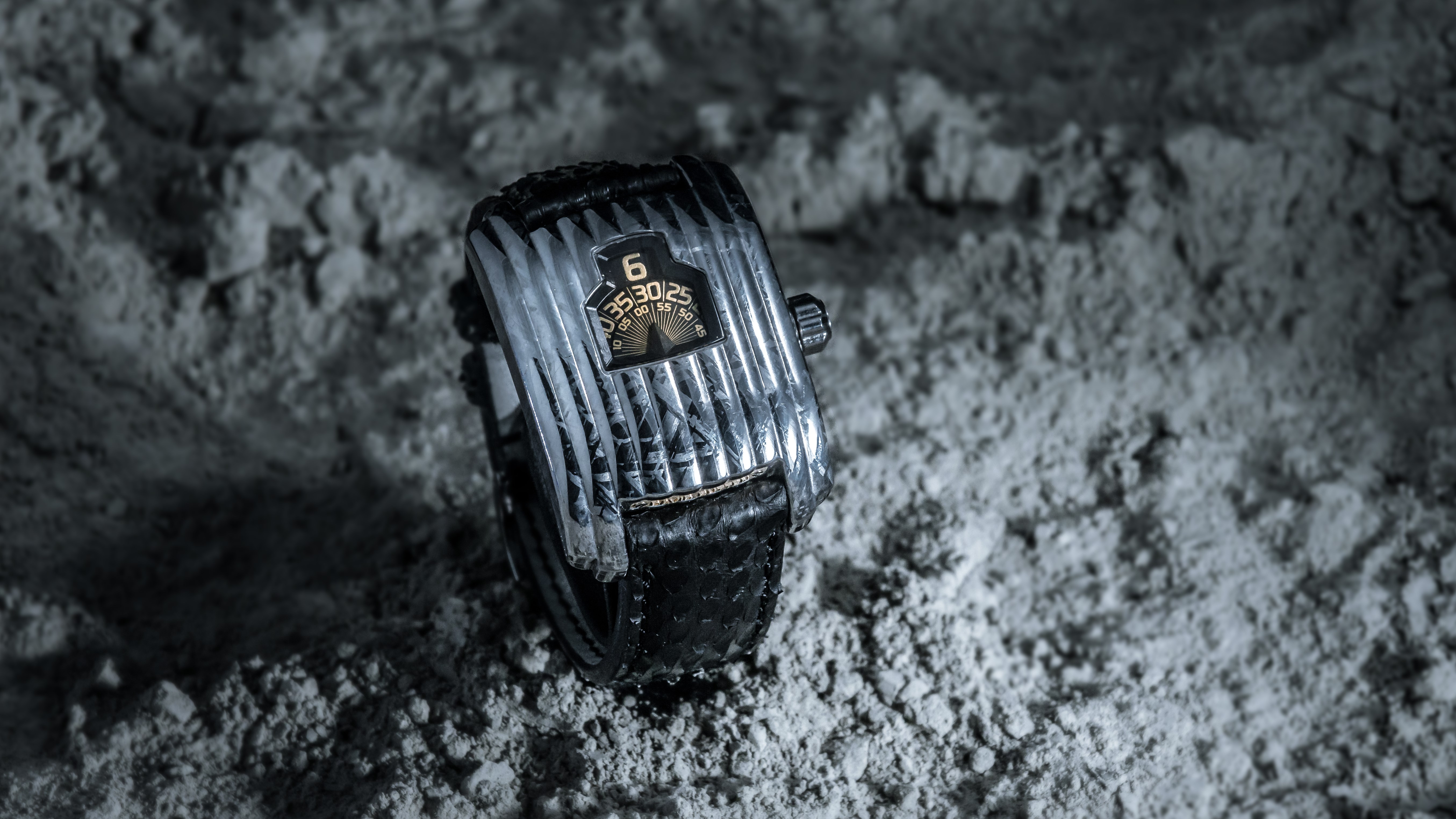 At that point, I know what you're thinking: "cut the crap Malik"! How much?
The issue of the price was the most sensitive. But there is one sentence from independent watchmakers that convinced me to adopt this pricing strategy : "yes, our piece is splendid, but we can't afford it". Every blogger has heard that one before. One of the most frustrating things in watchmaking business. You make watches, but you don't even have the money to get one for yourself? Do you even believe in your project? Can I afford a DR01 Streamliner myself?
So, we chose to apply an aggressive price for the Streamliner, so that it is affordable to all enthusiasts, at least for once. It is the price of a Rolex or a nice Panerai: € 8,500, or $ 9850, or chf 9850 (the base price is calculated in this currency in case of a boom in exchange rates). Yes, you heard me well, less than 10k.
More than an attack, it's a pure intergalactic hold-up. We invade a planet to pinch its resources.
You should be aware that the cost for raw material combined with the expensive machining worth almost the price of a machined 18 carats gold case. We're making very little money on each watch. But as watchmaking enthusiasts, we want to offer the unique opportunity to access a piece crafted by an independent. We want it to remain a living project. Middle class collectors should be able to live Rutten's meteoritic experience, and share it on forums, social medias or during watchmaking diners. We do not want our pieces to be inaccessible and reserved for the comments of the most specialised bloggers.
We do not make watches for vaults, we make them for enthusiasts.
That's why the first 88 pieces will be on sale until the fourth semester of 2019. Of course, beyond this limit for subscription, the ordinary rate will be applied: € 14,850, or $ 16,850, or chf 16,850 (provided that exchange rates remain stable until then – the base price is in chf).
The far-sighted subscribers will have two payment options, and two types of discounts.
The subscription alone represents 40% of the total (or € 3,400, usd/chf 3,940 ). The balance should be paid before delivery, during the second half of 2019.
Cash transactions will be eligible for an additional 10%, for a total of € 7,650, or usd/chf 8865.
If you introduce another person, you will have a further reduction of 10% (sponsorship validated only after payment from the sponsored party has been received).
As you can see, as enthusiasts, we revisited watchmaking in depth to escape from the straightjacket of the business. Our will is to provide a total experience that we hope will take you off this global village, through the artifact, to the final frontier, to infinity, where all is still possible.