SIHH2011, totally rocks. Presentation of the Panerai PAM382 « Bronzo », an over trash, ultra street credible bronze diving watch.
In the first 6 months, no one (but me…) among the Paneristic sect believed in it. After that, it was an almost unprecedented craze for a new Panerai in a limited series of 1000 pieces.
It worked so well that Panerai produced the same one in 2013 : the PAM507 « Wrongzo », a dirty little clone simply equipped with a bph hand (?) and a different type of bronze.
Those bronzos are not sold below twice their new price, even after two series of 1000.
Then?
Nothing, zilch, zero, nada, wallou, interstellar void. A deafening silence.
Before the PAM382, Gerald Genta with the Gefica & Anonimo was the first to have regularly proposed bronze models, which were in fact brand's best sellers.
Moreover, the difficulties encountered by those brands could put in question the relevance of bronze in watchmaking : dirty, heavy, not flashy, stinky (yes, bronze emits a smell), looking like an antique ( which Bronzo has shown to be particularly enhancing in the context of mechanical entertainment watchmaking).
Despite this major success, one of the most emblematic watches of the 2010's, no proposal has been made for a series-produced watch in the last 4 years.
In a peculiarly trolling recent parody, I spoofed the lack of creativity of Swiss watchmaking industry. (The German brand VBD took hold of the bronze.)
Till now in Swiss no one has ridden the bronze boulevard at 200km/h, although all the lights are green, the cops are watching soccer, and the radars went out of order.
There's one following… Zénith.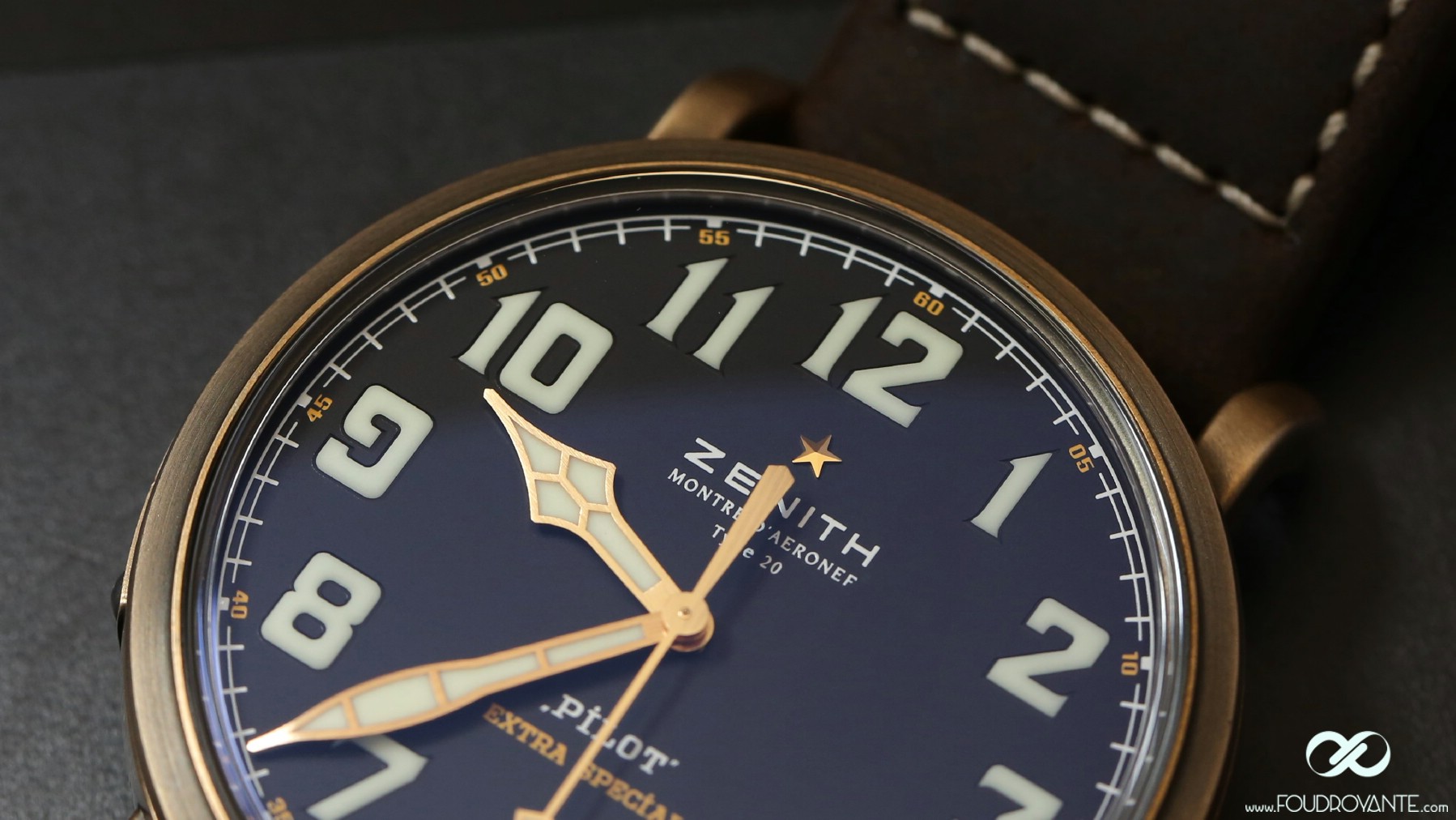 Thank you, thank you so much M. Aldo Magada, small emotional tear.
As you know, the former CEO Jean-Frédéric Dufour had initiated a major change at Zénith within a year :  making the teams work hard, he had succeed in proposing a total return to neo-vintage, a breath of fresh air after the indigestible and kitcho-baroque creations of Thierry « Titi-spoiler-arrière » Nataf.
Bitch please. 
Thereafter, riding on this success, JF Dufour was hired away to take up the most prestigious & dangerous post of CEO in watchmaking : Rolex. 
And it is true to say that after the relief of the return to the myth of Zénith,  I was still feeling a bit unstatisfied. The watches were really beautiful, but not enough to make me lose my mind.
Until this zénith Pilot Type 20 Extra Special Bronze
(the PR had maintained the suspense by presenting it to me lastly during our one hour meeting).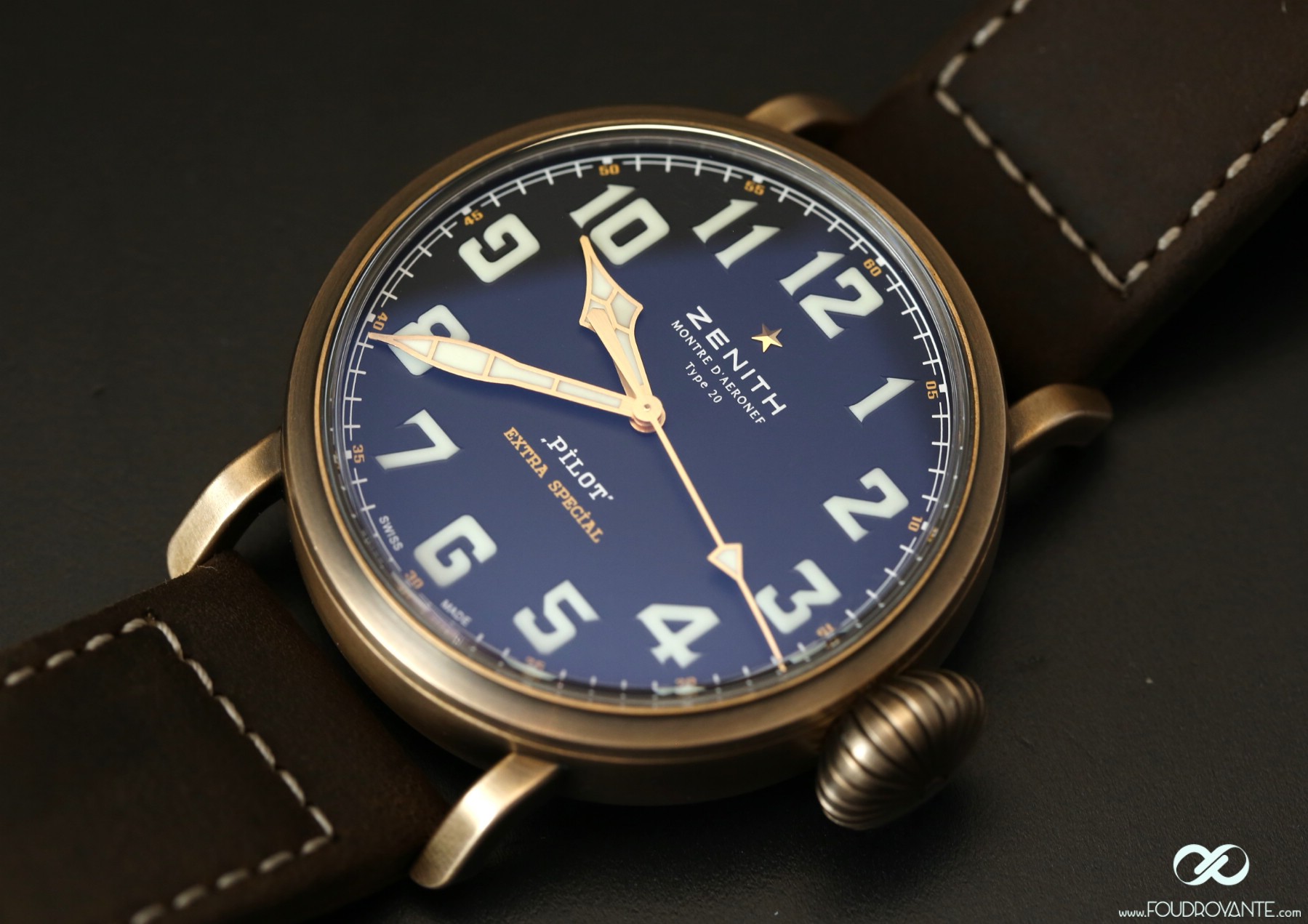 From what I can see, Zénith has struggled to find its feet with this Pilot series in 2012. They were offering watches in various sizes, which were either too small, or too large, or too wacky, or too sober.
This bronze model strikes the right balance in this series.
Zénith wished to create a series of pieces in tribute to their pilot's watches produced during the first half of the 20th century. Neo-vintage is always tricky to succeed, given that the manner of making watches is totally different : the profession has become widely automated, toxic and radioactive paints have been banned and the ancestral techniques and know how have been forgotten.
Even the most successful neo-vintage watches (PAM372, Tudor Black Bay) remain too clean and too new, not least because they don't have the patina as sign of age.
That's where bronze comes in : it brings a supplement of patina after a few weeks, an antique warmth that takes us back to childhood, in the shambles of the attic of our grand parent's house.
Within a few weeks, bronze legitimizes a neo-vintage watch whose patina would need a few years to form on another metal.
The Zenith Pilot Type 20 Extra Speial Bronze features a 45mm case, with a large dial opening. Despite two mm shorter  than the Bronzo Panerai, it looks taller on the wrist, and may not be ideal for small wrists.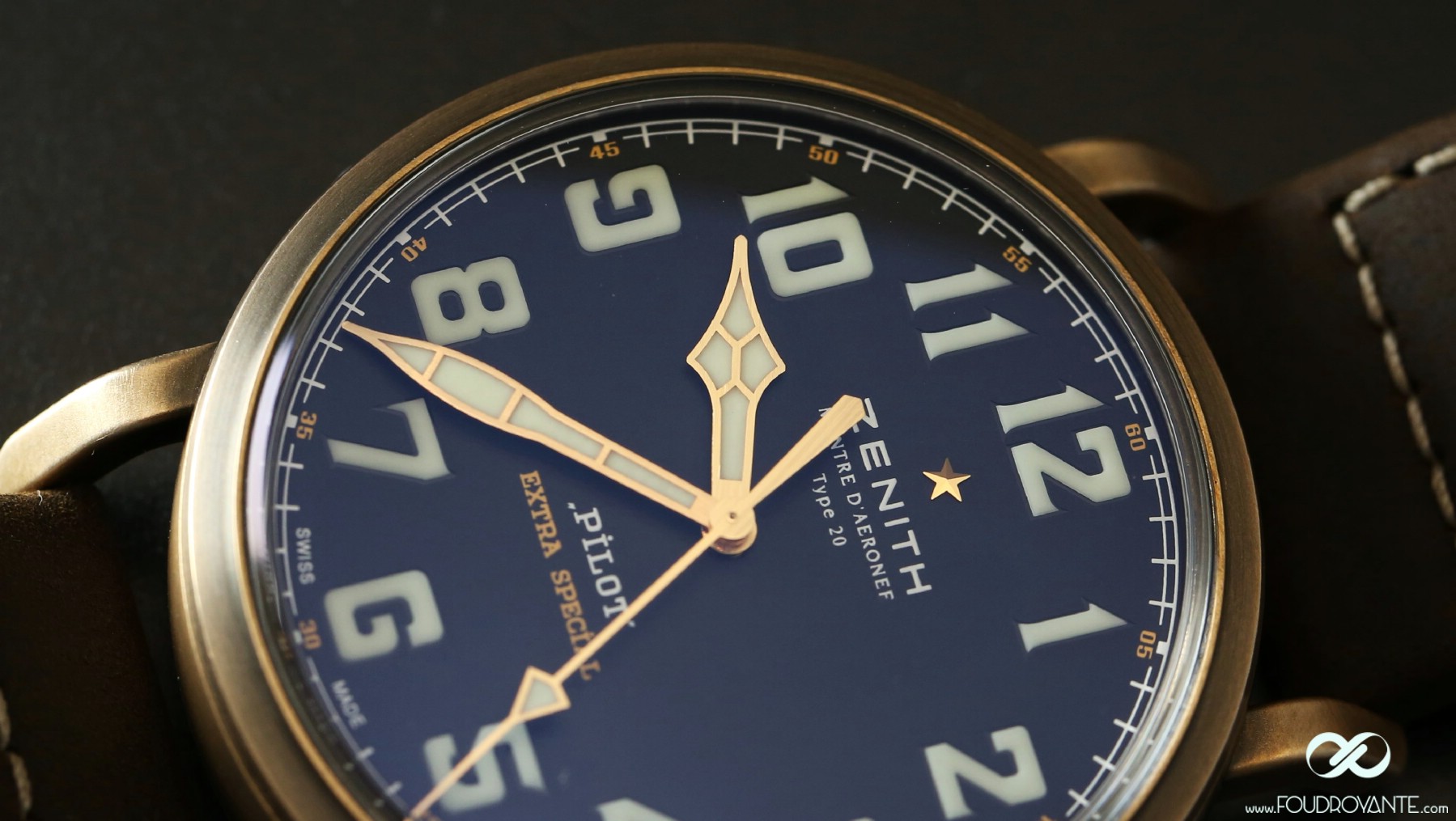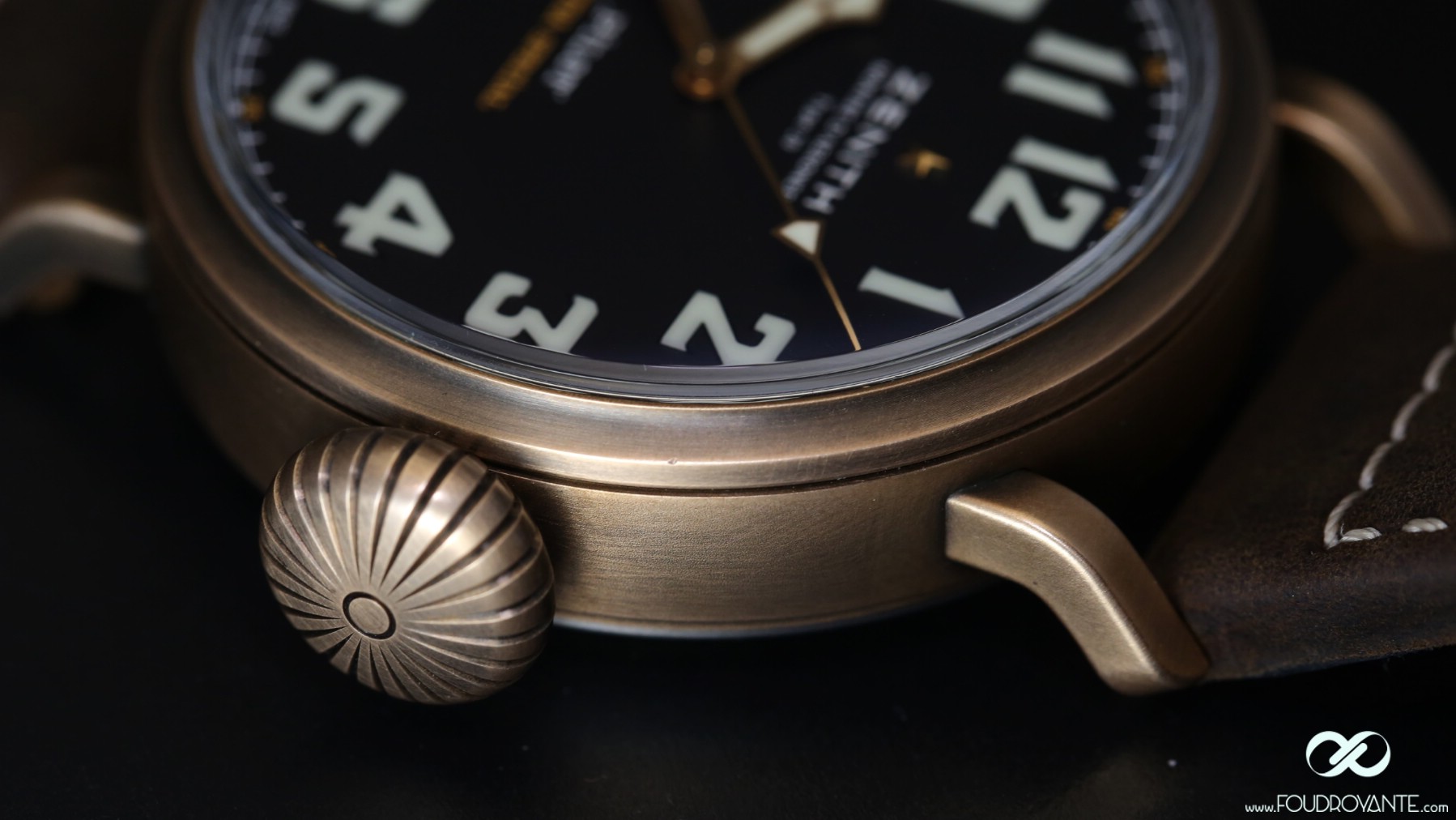 In accordance with the history of the product, the bezel is thin and angular, in particular the protruding part of the lower concave bezel. This highlights the patina of the bronze. The lugs are thin too and shapely which ensures a reasonable level of comfort (this Pilot is heavy, no official data for now, the official presentation will take place in October).All of this forms a very coherent whole, and it continues with the dial : the hands are made of gilded metal and an very agular shape. The partitions on the hands were originally designed to receive Radium (yum, half-life : 1604 years). This type of partitioning, I suppose, prevented the radium from attacking the metal too quickly.
But as usual in  the ancients' realisations, the aesthetic and technical aspects were interlinked (whereas nowadays the aesthetic is completely separated from the technological content).
Besides, the design and the yellow metal of the hands, combining angles with concave and convex forms (side view), echo the design of the bronze case.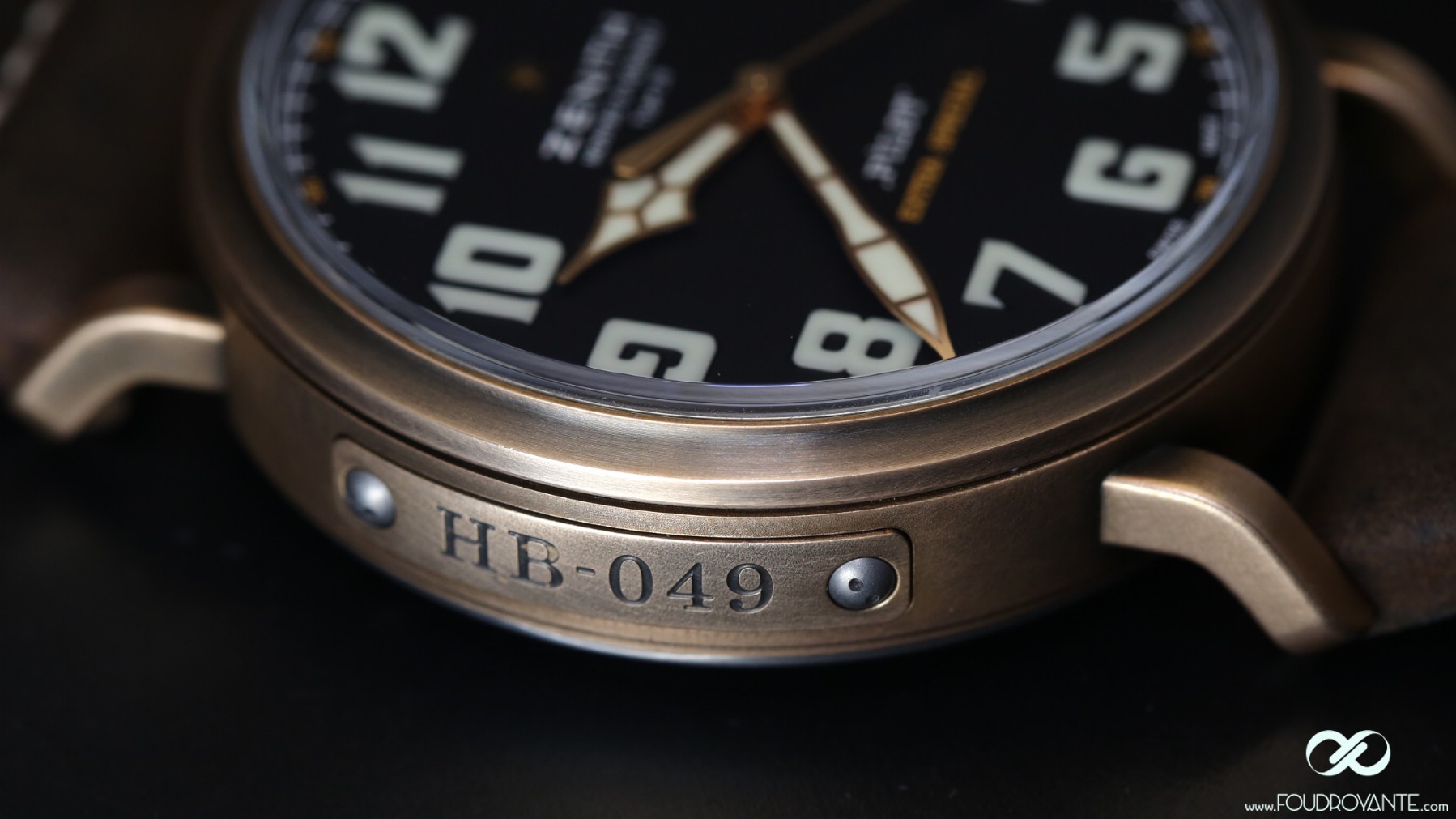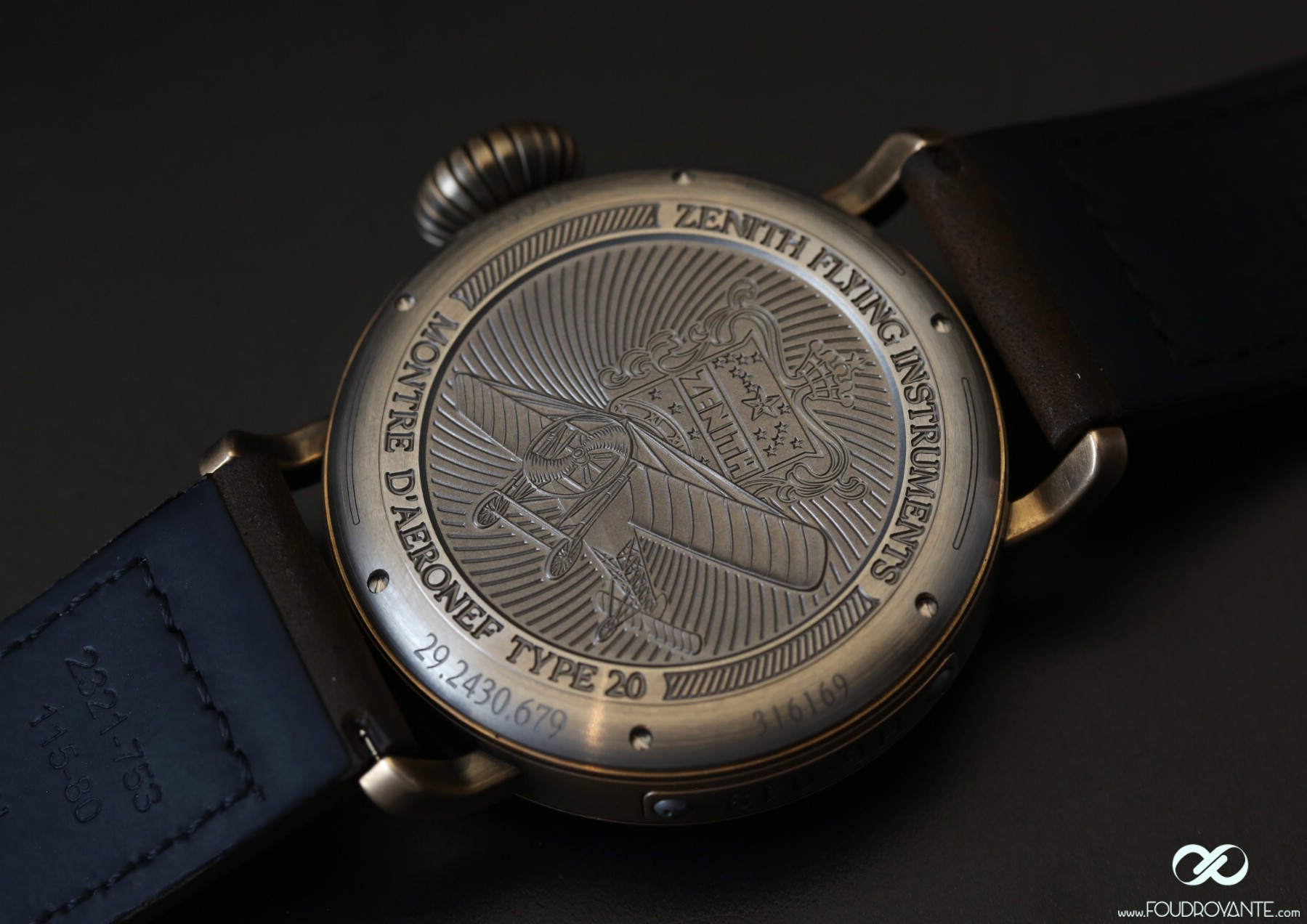 Those hands allow a visual connection between inside and outside. The rest of the dial is more conventional, but everything works perfectly : the black dial is provided with details of lining in yellow metal, and the index in solid luminova (Belight production?) use the excellent Art Deco font. With the hands, they garantee maximum readability in all circumstances. Unlike many gadgets complication watches, this is a real asset in everyday life.
The movement is the weak point of this watch, while significantly improving. On the previous models, Zénith had called upon Sellita for some strange reason (problems of production capability?), which was very disappointing, given that Zénith's movements are the finest in medium range watchmaking : I don't need to introduce you the «El primero », the Elite stands comparison in any points of view, with some movements stamped « Haute horlogerie ».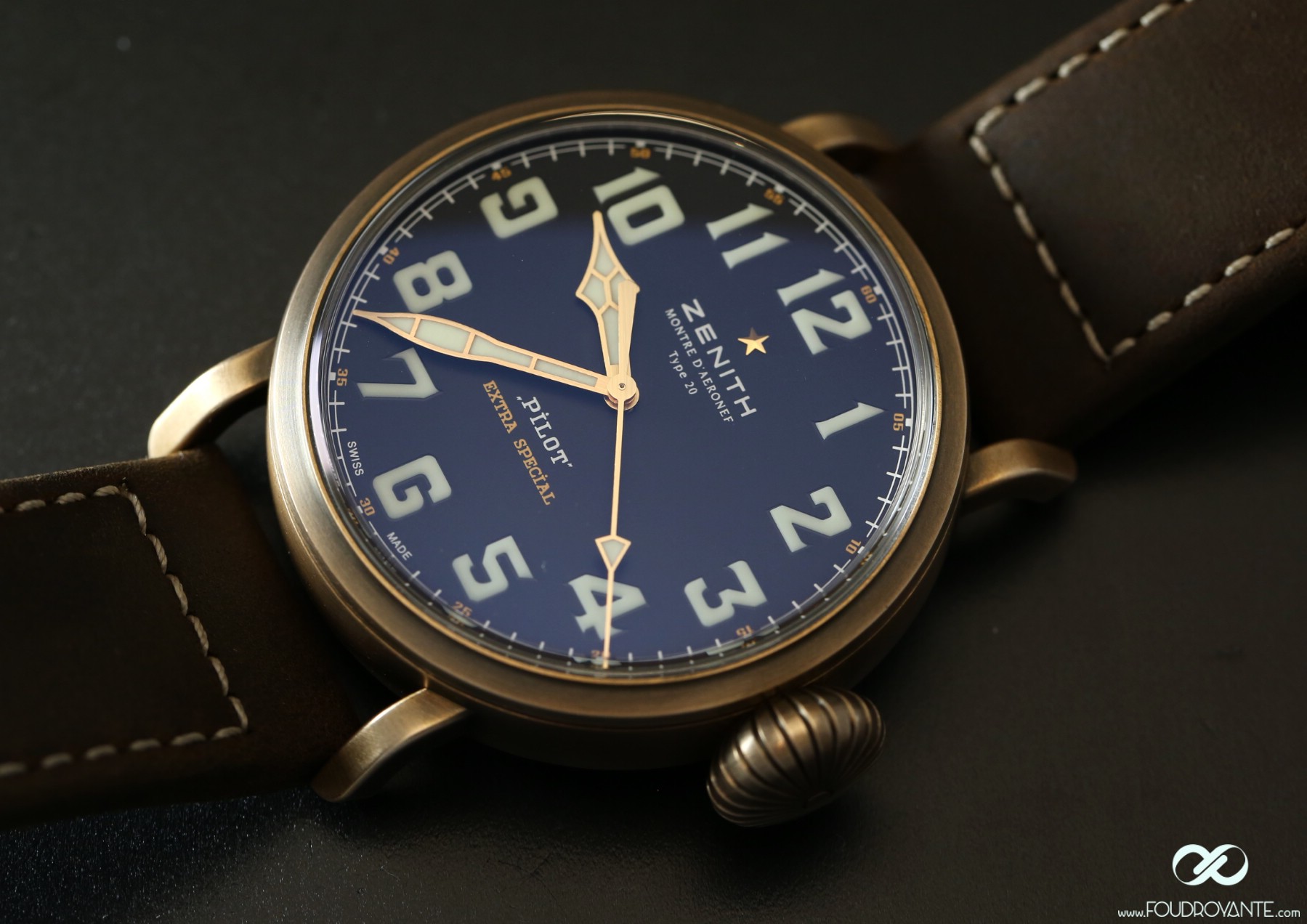 So, for this type 20 Bronze, it is a clear improvement : the watch is motorised by an Elite, frequency 28800 BPH for 50h of PwR. The movement is beautiful but small : 25.6mm (11.5"' lines)*3.85mm, it's not much in the big 45mm Pilot's case.
Moreover, the Pilot has a second hand, which is a bit bothering me because I do prefer small seconds in large-format watches, more contemplative and less sporty than a Sub, for instance. Finally, as it is an automatic calibre, it gives us few opportunities to play with the crown. That is unfortunate because the large flat turnip is a pleasure to manipulate.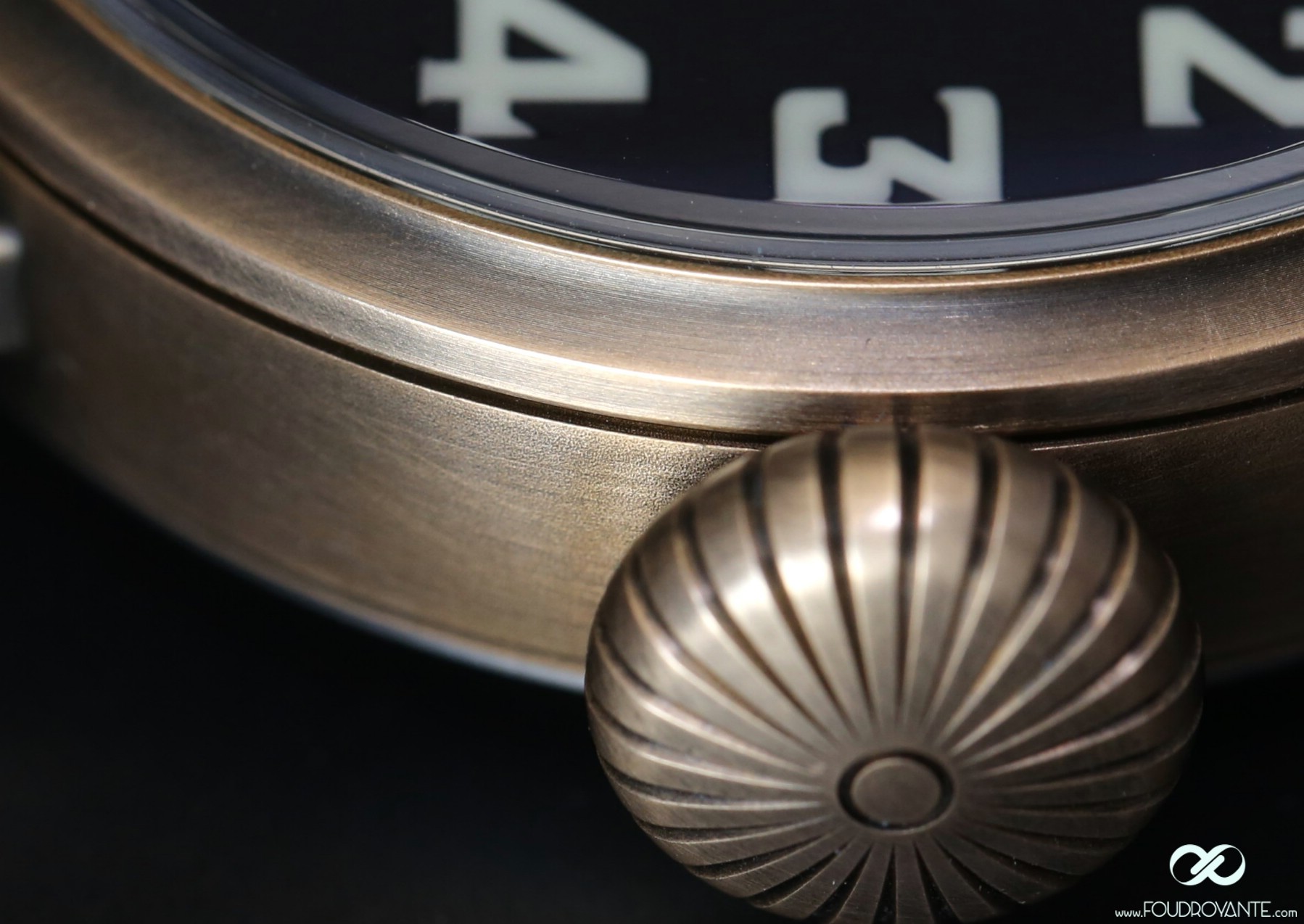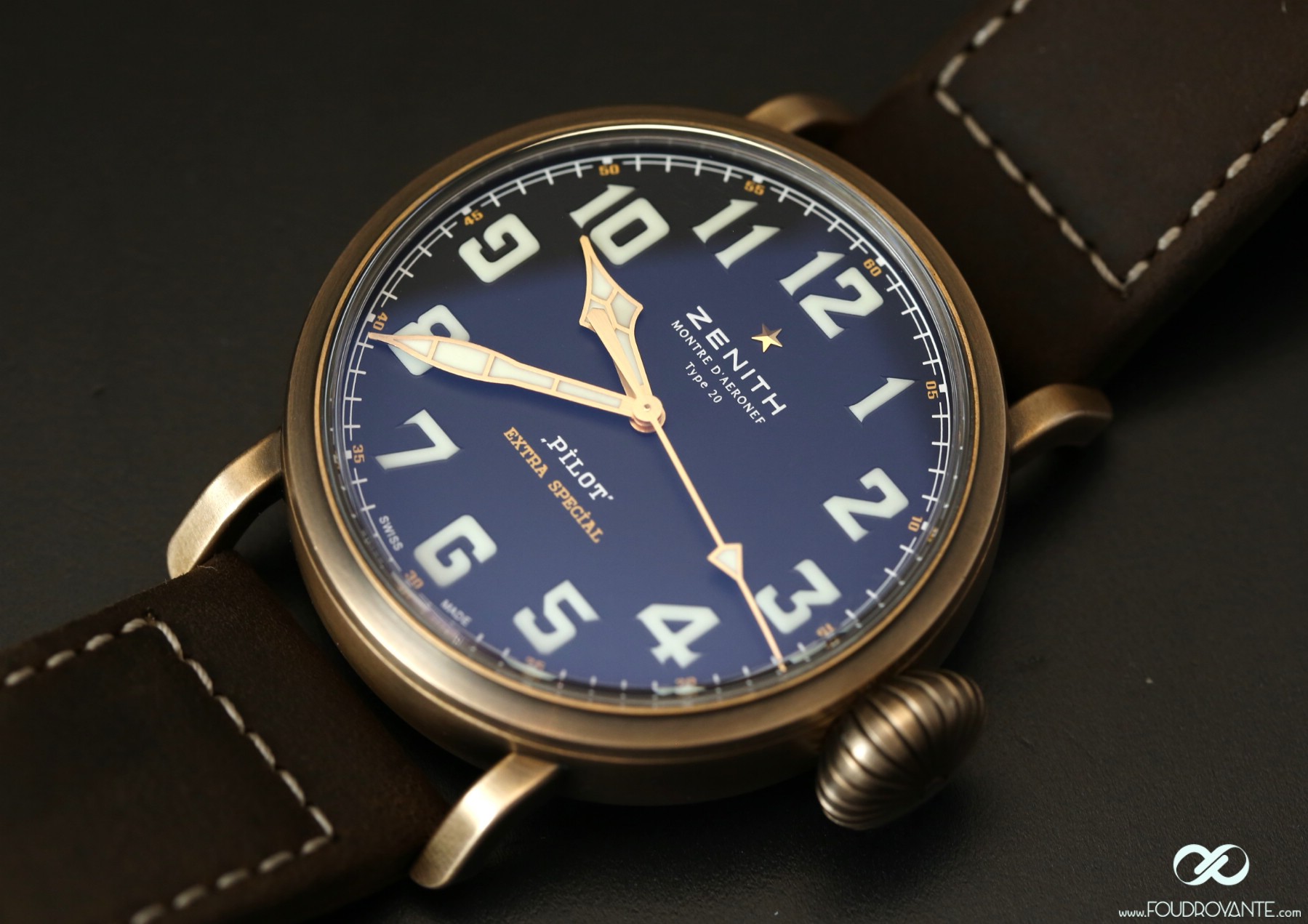 On the wrist, we fall instantly under its spell. We are in an uchronial universe reminiscent of Miazaki piloting a steampunk airship towards a castle floating in the sky.
Aesthetically, it's much more than a watch, it's a instrument of time travel.
The watch is round and warm, with just enough sharp edges to make it dynamic. It's gorgious, original, unusual, heavy but not too much (comfort is just right, with the anti-allergic titanium back and the shapely lugs). In short, it is perfect.
Its aesthetic is also relatively versatile : it is not too sporty, not too military, not too smart, it can be a main watch to wear in all circumstances of life.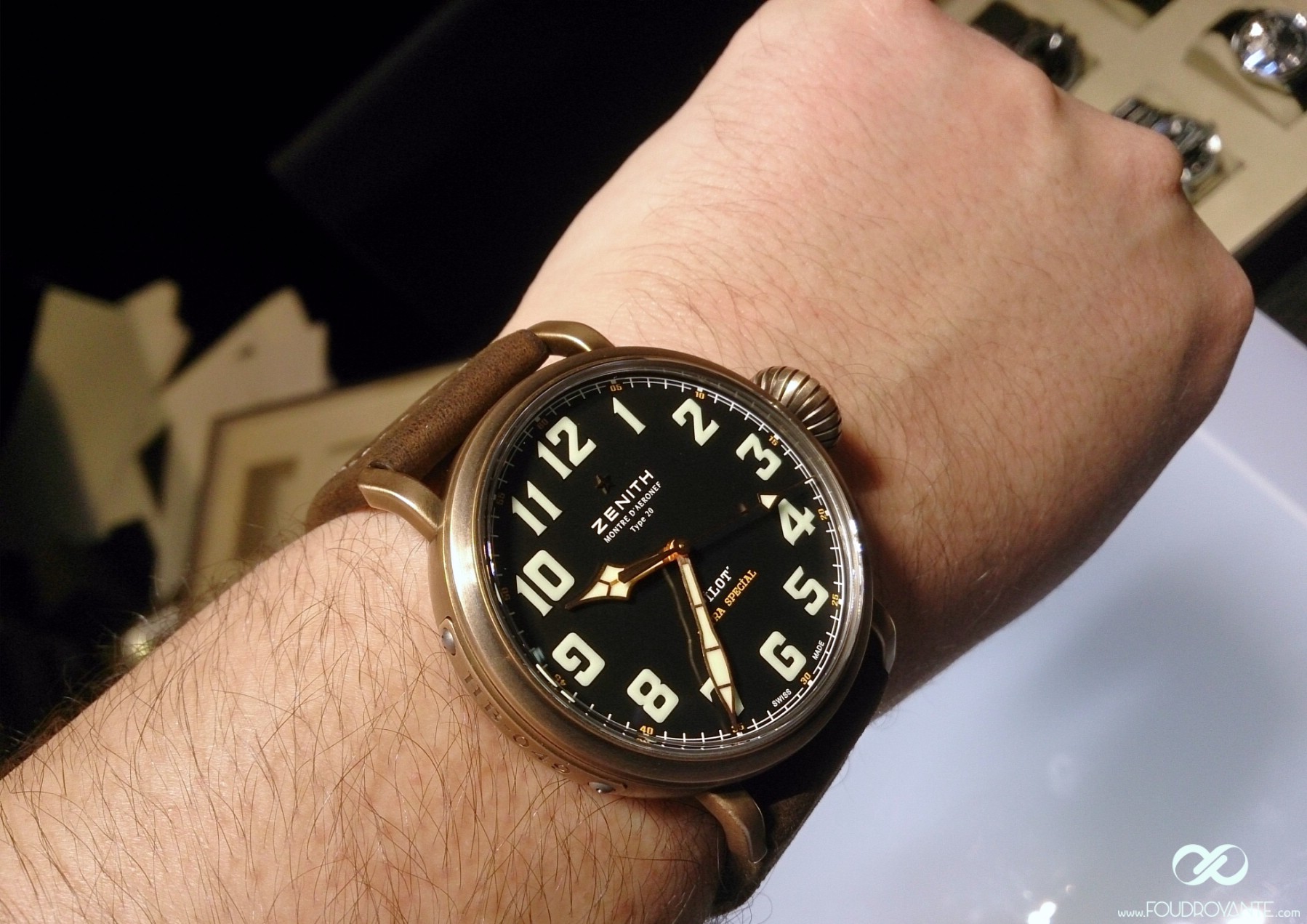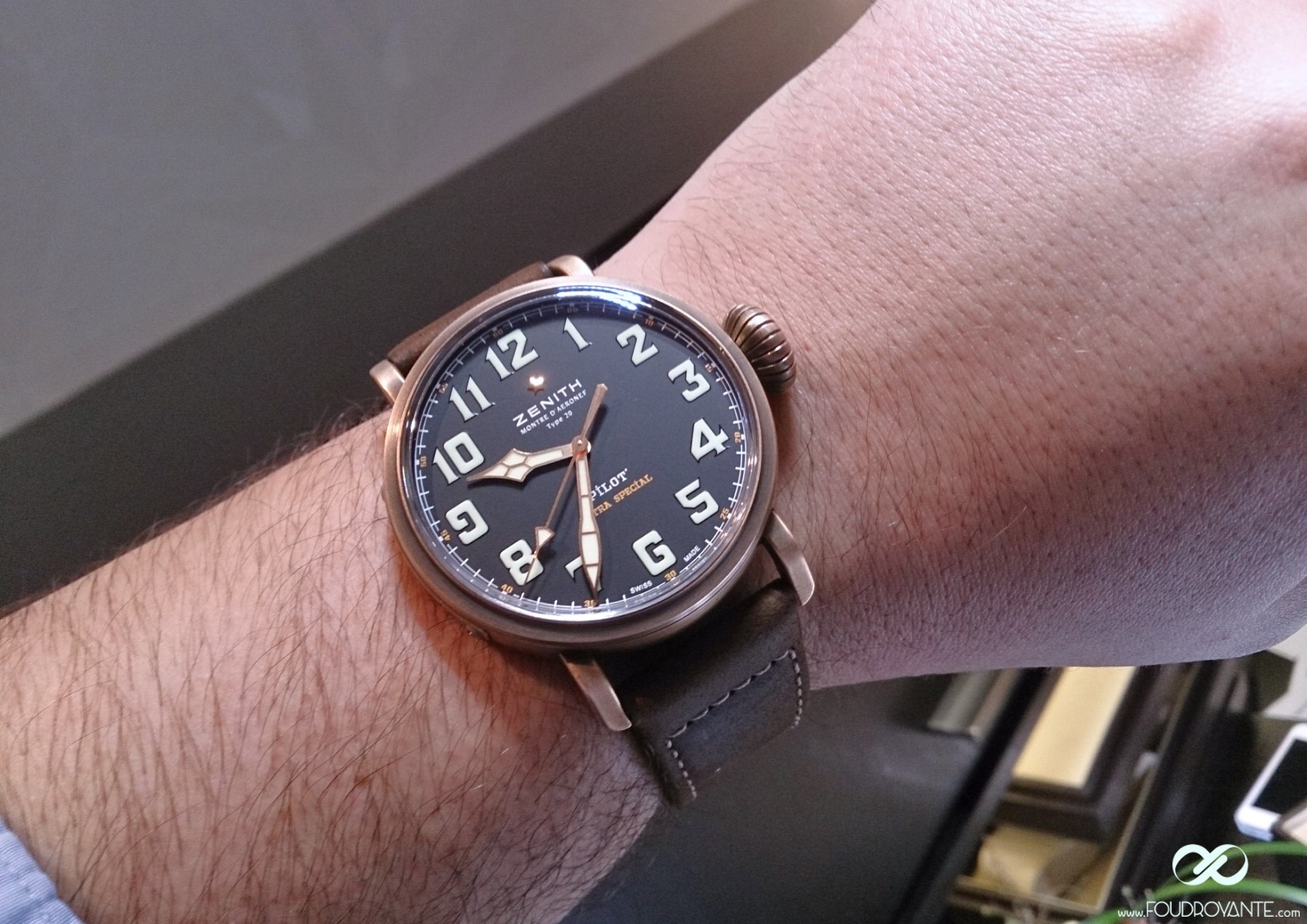 You've understood it, I'm crazy about this watch (top 3 Baselworld, with the Tudor Pelagos Blue and the DB Quetzalcóatl). But it's a minimum, considering that Zenith is the first brand to propose a massproduced Bronzo, well-designed and fairly affordable (around €7.300).
I even think that this piece has made the brand with the star take another step forward in its resurrection.
Pifpaf.